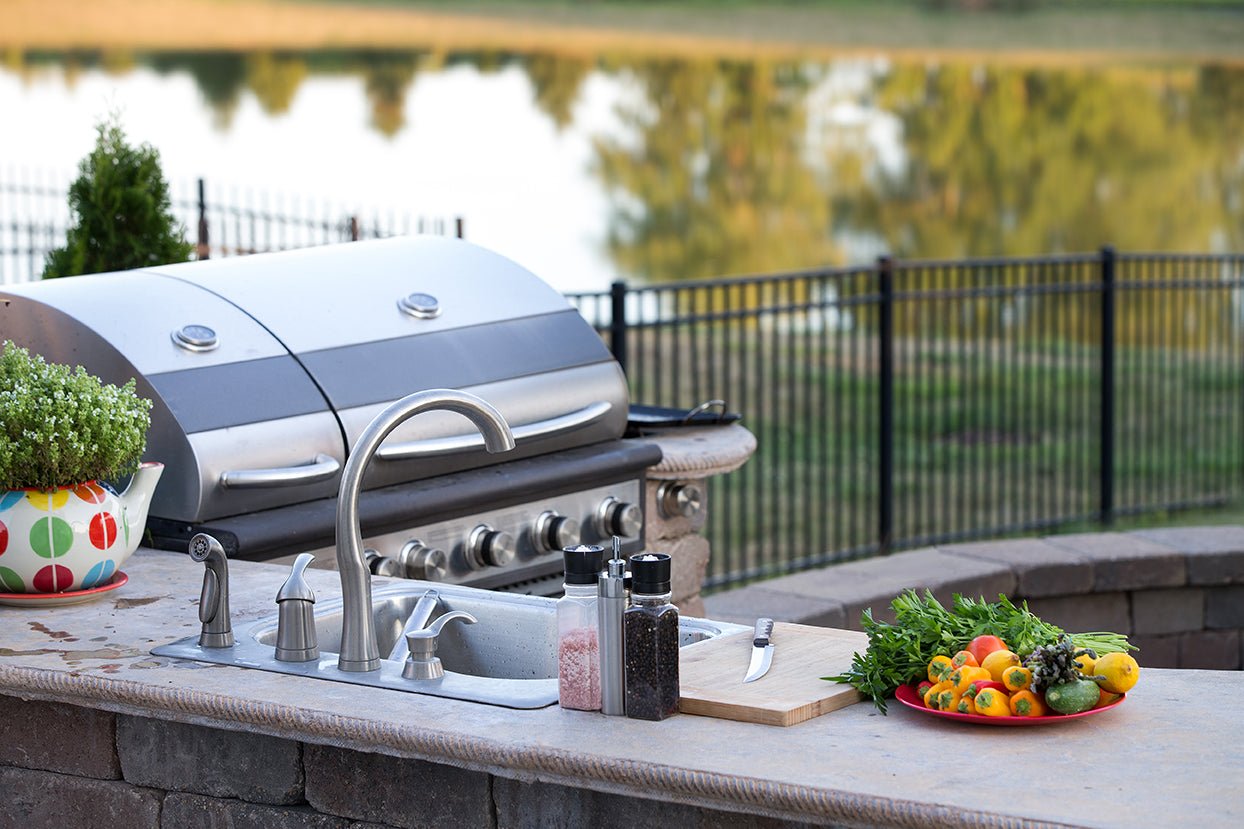 Outdoor Kitchen Buying Guide: Most Important Things to Consider Before Purchasing
An outdoor kitchen is a great way to combine your love for cooking and enjoying the outdoors. And it also has become a popular option for those looking for a more casual and comfortable way to entertain friends and family. The question is, however, where to start? Too often, it is difficult to figure that out. Because a proper outdoor kitchen is more than just a countertop―it should be as functional as it is beautiful. 
So, what exactly do you need to make the perfect outdoor kitchen for your home? To help you out with this, here is a quick guide. Let's see what's involved in getting you to make some epic meals right in your backyard!
What to Consider When Planning an Outdoor Kitchen Build?
When planning an outdoor kitchen for your backyard or patio, you need to consider a few factors. Such as:

Budget:

The first thing you need to consider is the budget. It is important to determine how much you can afford and stick to it. Otherwise, spending can spiral out of control. Ideally, the budget should include both the cost of kitchen components and the cost of utilities, plumbing, permits, and labor.

Location:

Where would you like to build the outdoor kitchen? You can build it close to the house or away from the house. However, if you need to run water, gas, and electricity lines to the kitchen―it makes sense to locate it near the home. Also, the location should be level, dry, and stable. 

Layout:

After you've decided on the location of your outdoor kitchen, it's time to decide on its layout/structure. Remember, building an outdoor kitchen

isn't a one-size-fits-all process

. Your space, budget, and design preferences determine the layout of your kitchen. Among typical types of layouts is an

L-shaped

layout that works well for small and medium-sized areas. Another is

Linear

, which is suitable for spaces with limited areas and limited budgets. And

U-Shaped

layout, which is ideal for large outdoor kitchens and gives you more counter space to prepare food.

Materials:

Materials for outdoor kitchen items and appliances can vary widely. However, you should choose materials suitable for your climate. Ideally, choose materials that are

easy to clean, highly stain-resistant, and can withstand both extreme temperatures and humidity.
What to Include in Your Outdoor Kitchen
Once you've outlined your budget and decided on location, layout, and material―now it is time to figure out what will go into your outdoor kitchen. Each zone of your kitchen will have different items and appliances. Here is what you can include in different zones:
Prep Zone
The prep zone is where you will prepare your meal. If you have adequate prep zone equipment, no matter what type of meal you are planning, the process will run more smoothly. The main items of the prep zone include a sink and countertop. Having a sink in your kitchen will help you prepare food, clean it, and cut down on cross-contamination. 
There are also a variety of other items you may want to have in your prep station, such as paper towels, cutting boards, roasting racks, grilling and cooking utensils, and a slide-out trash bin. And to store cooking utensils and supplies, stainless steel drawers, shelves, and cupboards are also essential.
Cooking Zone
Outdoor kitchens are centered around the cooking zone ― because the magic happens here! Grills, smokers, pizza ovens, cooktops, warming trays, side burners, and so on all go on the cooking island. If you are going to use a gas grill in your outdoor kitchen, be sure that the area above, below, and around it has good ventilation and that there are smoke vents near the grill.
Serving & Entertainment Zone
Food is served here, and after that―it's a place to have fun. The addition of kegs and beverage refrigerators here is a great idea, as they provide great storage options for beer, wine, and other beverages. You can also include a patio bar here, where you can stock up on drinks, fancy glasses, and so forth. 
Outdoor Décor
No matter what your style is, choose outdoor kitchen furniture that's comfortable, inviting, and great for both dining and conversing. Look for weatherproof and durable furniture if your dining area is exposed to the elements. 
And to keep your outdoor kitchen safe and comfortable, you should provide some form of protection, such as a canopy, retractable roof, or pergola. Also, consider a patio heater or fire pit to extend the season in cooler climates. Lastly, don't overlook outdoor lighting for the perfect ambiance after the sun goes down.
Which Outdoor Kitchen Is Ideal for You?
Now that we've got the necessities... let's talk about building your outdoor kitchen. When building an outdoor kitchen, you have a couple of options, including: 
Custom outdoor kitchens:

These kitchens are custom-made by you or by a contractor for your backyard space. They're also very expensive and take a long time to plan, get permits, and build out.

Prefab outdoor kitchens:

These are outdoor kitchens that are designed by manufacturers who have already built all the materials in their factories and are ready for easy installation. 
Custom vs. Prefeb: Which is Best?
Though both kitchen options are good, many people prefer the prefab option as compared to custom builds. Why? Because prefab outdoor kitchens are easy to install. Unlike a custom outdoor kitchen, which can take days or even weeks to construct, a prefabricated kitchen can be assembled within a few hours. Also, they only require assembly upon delivery, so you don't need to worry about finding materials or hiring contractors to build them. 
Further, prefab outdoor kitchens can be customized to suit your needs, which is one of their best features. You can choose the shape, size, and features to suit your space and cooking style. Which makes them a more affordable option, in comparison to building a custom outdoor kitchen from scratch. 
Stone & Heat Is Here to Help You Find Your Dream Outdoor Kitchen
We offer outdoor kitchen items and appliances that can meet your kitchen needs. We proudly offer premium products that improve the functionality of outdoor living spaces. Customer satisfaction is our top priority―that is reflected in our expert customer service staff based here in Texas. Let us help you put together your dream outdoor kitchen. Contact us today!