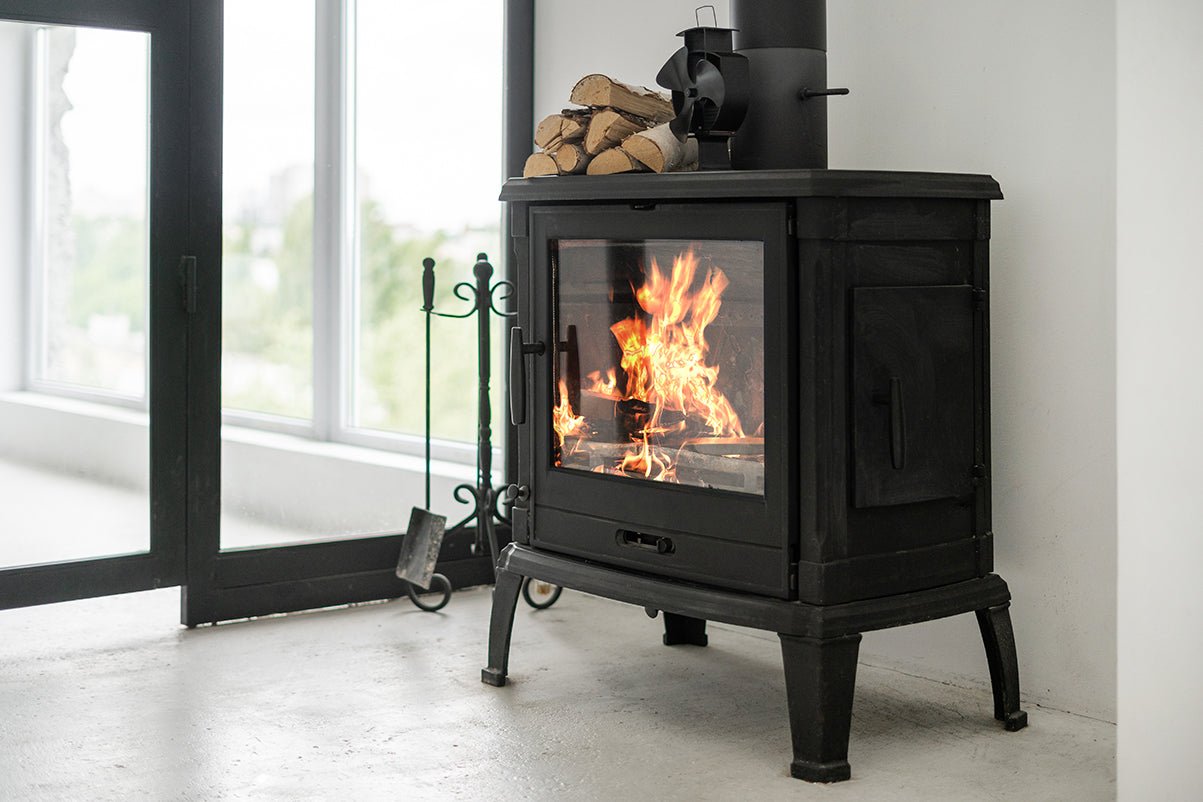 Wood-Burning Stoves Buying Guide
Wood-burning stoves are a highly efficient and sustainable way to warm up a living space during bone-chilling temperatures. The comfort they provide as well as the characterful focal point they can add to a home—have made them increasingly popular. If you're considering joining wood-burning stove owners by the fireside, selecting a wood stove isn't difficult.
However, if you've never bought a wood-burning stove before, you may overlook some crucial factors that could adversely affect the efficiency and cost of your wood-burning stove. To rectify this issue, we have put together the following beginner's guide that will provide you with all the information you need to make an informed decision! And if you'd like to learn more, the experts at Stone & Heat will be happy to help you weigh the options to find the right stove for you. Let's get to it! 
Things To Know When Buying A Wood-Burning Stove
Size of the Wood-Burning Stove
To begin, you need to decide what size you need for a wood-burning stove. A stove is typically categorized as large, medium, or small.
The

small stove

has the ability to heat up to 1000 square feet.

The

medium model

heats 2000 square feet.

The

larger model

can heat up to 3000 square feet.
Also, it is important to consider the following factors. These will help you when choose the size of your stove:
Size of the house (width, length, and height)

The layout of the house (open plan spaces, for example, need a higher output stove)

Wall or cavity insulation, if there is any
Types of Wood-Burning Stove
Wood-burning stoves come in different types. In general, you can find wood stoves based on the Combustion system, Installation type, and Material Type (construction).
Type of Stoves Based on the Combustion system
Non-catalytic stove
Catalytic stove
In non-catalytic wood stoves, a baffle is used as the burn system. Basically, baffles pump oxygen into a stove so that fire can burn before it exits through the pipe. Due to its simplicity, it is the most common type of stove. 
Wood stoves with catalytic combustion ignite and burn smoke gases and particles within ceramics honeycomb. Which can cause smoke to burn like fire, producing more heat. With this stove, you can heat your home with less wood.
Type of Stoves Based on Installation type
Standing stove 
Fireplace inserts 
Because standing stoves can be installed almost anywhere, as long as they are safe, they are the easiest and fastest to install. Moreover, there are more models of standing stoves available today, so choosing the one that is right for your home will be easier.
Fireplace inserts usually have a luxurious look and feel. However, if your home wasn't designed with one, it can be hard to install it. Therefore, they are generally more expensive due to the difficulty of installation.
Type of Stove Based on Materials 
Steel wood burners stoves 
Cast-iron wood burners stoves
Steel or cast iron are the most common materials for wood-burning stoves. Although both are great heat conductors, the way in which they release heat differs slightly.
A steel wood stove releases heat more quickly, but it doesn't retain or radiate the heat as long. On the other hand, it takes longer for cast iron stoves to heat up, but once the fire is out, the heat remains for a longer period of time. 
Type of Stove Based on Door Types
When it comes to wood-burning stoves, you have the option to choose a stove on the basis of its doors types too, like:
Single-door

wood-burning stove

Two-door

wood-burning stove

Wood-burning stove

with a side door

Wood-burning stove

with a glass door
Wood-burning Stove Accessories
To make your wood-burning stove more efficient and convenient to use, you can get a wide variety of accessories, such as.
Maintenance Accessories
Grates

Metal Ash Bucket 

Stove tools (rake, shovel, and brush)

Log holder

Stove gloves

Chimney Cleaning Kit 

Ash Vacuum 
Performance Accessories
Blow Poke

Fireplace Kettle 

Firewood Racks 
Cost Considerations
Wood-burning Stove Cost
Wood-burning stove prices vary greatly depending on a variety of factors, such as the brand, size, fuel type, and your property's needs. A simple model costs between $500 and $4000, while a more elaborate model costs considerably more.
Installation Cost
Installing a stove will add to your total cost, so it's important to consider it when choosing a model. A few wood stoves can be difficult to install, so you should consider that when purchasing one.
Depending on your location, installation costs for wood-burning stoves range from $500 to $2000.
How to Use a Wood-Burning Stove
Follow these steps to make sure you use your stove safely and efficiently.
Prepare your stove 

Make a fire bed

Lighting your fire

Leave the door slightly open

Add larger pieces gradually 

Monitor Air Flow 
Wood-Burner Stove Maintenance
There are several steps you should take to ensure your wood-burning stove is maintained properly and continues to run efficiently for many years to come. These include: 
In the case of daily use, remove ash buildup every few days

Make sure the throat or deflector plate doesn't have any soot buildup

Use a damp newspaper soaked in ash to wipe the glass regularly.

Watch out for signs of damage around the rope seals on the doors

Clean and service your chimney once or twice a year.
Ready To Buy Wood Burning Stove?
Now that you know the necessary information about wood-burning stoves,
why not take the next step?
We have a great selection of stoves at Stone & Heat that can meet your needs. Whether you need a new stove or accessories, we're your one-stop shop! We offer wood-burning stove models from a variety of reliable brands, so it is easy to select the one that fits both your home and your budget. Contact our experts today to help you find the perfect stove!