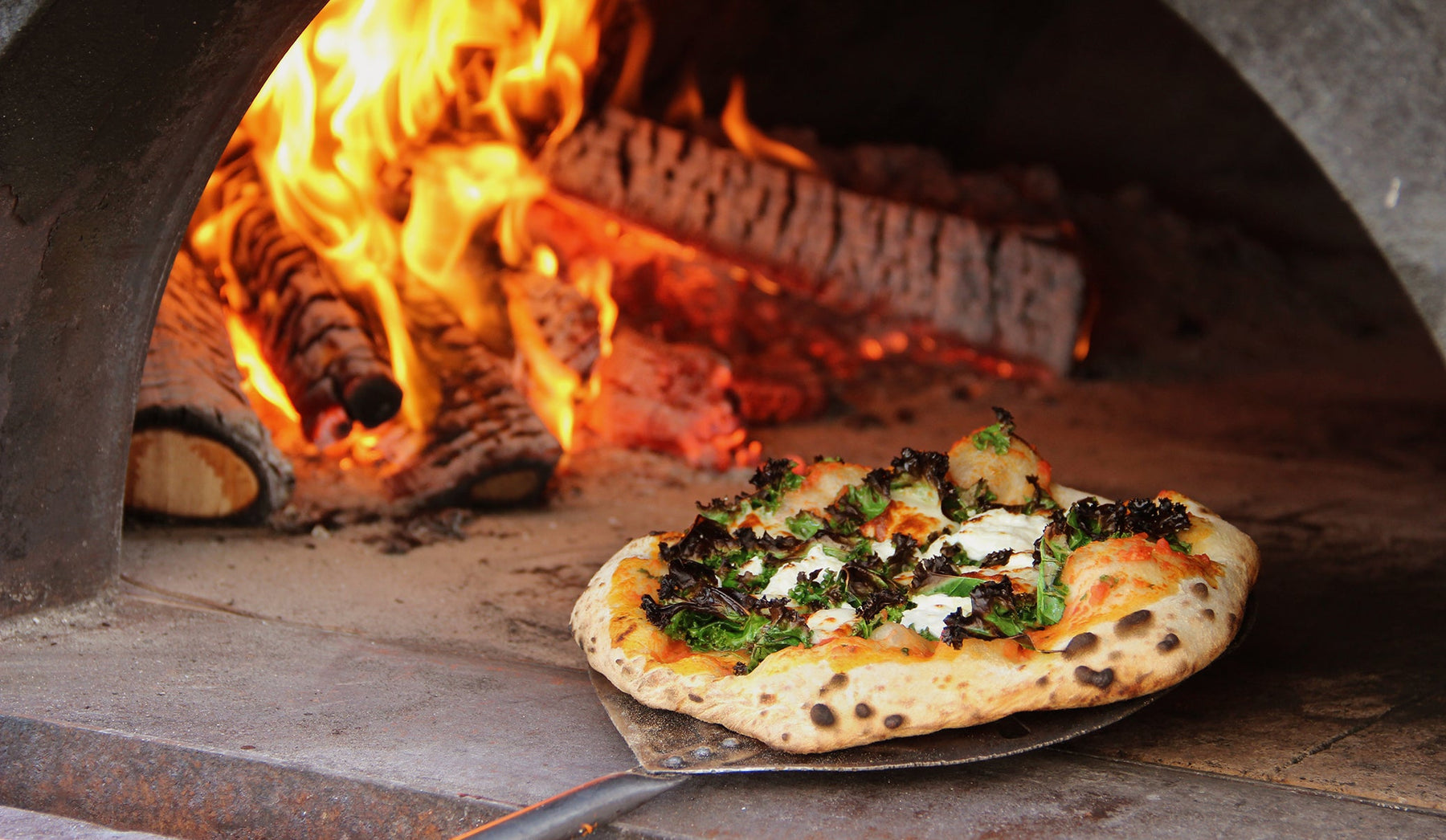 Selecting the Right Pizza Oven
Not all pizza is created equally. There's a big difference between a frozen Tombstone hitting the microwave and a made-from-scratch pizza prepared with fresh ingredients and cooked in a pizza oven on your backyard patio.
For example, having a truly authentic Neapolitan pizza requires a wood-fired oven to get the heat up enough to deliver that spongy and delicious burnt crust.
Not all pizza ovens are created equally either.
Fret not, dear pizza aficionado. We've got the ultimate guide to help you select the right size, material, and budget for your dream pizza oven setup.
Fuel sources for outdoor pizza ovens 
Outdoor pizza oven allows you to bake restaurant-quality pizzas in the comfort of your home. It's a game-changer for most folks out there. 
Let's consider the 2 common types of outdoor ovens you can explore in your social life.
Wood-Fired Outdoor Pizza Ovens
Baking in a wood-fired oven is as old as modern agricultural history itself. And there's a reason it's still a go-to for pizzerias worldwide: it makes great-tasting pizza.
These outdoor ovens are typically made from brick or stone. Usually, they feature the unique domed top that is now synonymous with just these ovens. Wood-fired outdoor pizza ovens are ideal for adding a delicious charred flavor to your food. You may even use them for either high-heat, fast cooking or low-heat, slow cooking. 
What we like
The natural fuel source adds a distinct "wood-fired" flavor 
Under the proper conditions, wood burns hotter than propane
A simple design is reliable in most conditions  
What we don't like
Baking and fire building carries a challenging learning curve
It takes more effort to keep a fuel source going (i.e., splitting logs)
Smoke and wood ash indicate that the oven needs a regular cleaning routine
Propane outdoor pizza ovens
A propane gas outdoor pizza oven may be ideal if you prefer a hands-off way to cook Italian pizza outdoors. These ovens are much more popular than wood-fired ovens because of their user-friendliness, accessibility, and convenience. Due to their consistent gas output power, you'll be able to swiftly recover heat when cooking many pizzas.
They will not offer the same flavor, though. These models have a more controllable flame and instant ignition. Moreover, most types are built of metal. However, stone and brick gas pizza ovens are also available if you like a more rustic design.
What we like
It is easier to set up and ignite on your own.
Cleaner combustion with no smoke
Temperature recovery and control in between pizzas are easier
What we don't like
Propane is often more expensive in comparison to wood
Cooking on gas does not offer the same flavor and feel
Harmful to the environment
The design and position of the oven burners influence the quality of the pizza
Choosing the Right Size
First and foremost, examine the available space within your home or the backyard. Ask these questions: What is your budget? What do you have space for?
Knowing your oven size, heating time, and capacity needs will help you make purchase decisions. It is critical to understand that small ovens are not called "beginners." Each pizza oven offers unique benefits and features, and although pizza oven sizes may vary, so does the quality of the pizza. 
Any wood-fired pizza oven should make for a great pizza.
How regularly do you expect to use the pizza oven? This is an essential question to ask oneself before settling on one. Will you be making for a small family, or will you be hosting lots of guests on the regular?
Large pizza ovens can cook more pizza but need longer to heat up, take up more space, and require more cleanups.
These are essential aspects to consider when choosing an optimal model; the optimal size of a pizza oven depends primarily on your lifestyle needs. Let's break the sizes into 4 distinct ranges to make it easy.
Which size suits your lifestyle?
Go with this basic guide:
Small Family: Up to 26 inches wide. These fit a single 12-inch pizza at a time.
Large Family: 27-33 inches wide. These cook between 2-4 12-inch pizzas at once.
Frequent Entertainers: 34-42 inches in width.
XL Ovens: 43 inches and up in width.
Why We Recommend Steel
The outdoor oven base is designed specifically for outdoor use. This means these will be subject to various weather patterns. To avoid rusting with time, pick good weather and corrosion-resistant material.
Lightweight steel rusts easily in damp conditions. The same is true for untreated wood. In warmer temperatures, plastic may fade and become brittle. It may not be robust enough to support a commercial pizza oven.
What is the best material? Aluminum and stainless steel are popular materials. Both materials are durable and non-corrosive.
Installation Considerations
Outdoor pizza ovens, particularly wood-fired models, are currently the most popular type of installation. Most clients we deal with prefer to install their oven inside an outdoor open kitchen, a rear deck, or a patio.
The great news is that it is also the simplest method of installing your oven. Suppose you intend to position your oven in an open area without any roof or pergola visible. In that case, no additional venting is required beyond what is currently provided with the oven
Suppose you are in the opposite camp with a roof or pergola just above the spot where you wish to place your oven. In that case, it will be practical to adequately vent the oven according to the manufacturer's guidelines and requirements in your local municipality.   
We suggest consulting a qualified contractor or HVAC business familiar with the regulations and laws governing the venting of a wood-fired outdoor pizza oven. Doing so will ensure that you safely install the oven and do not harm any preexisting structures during installation.    
Wrap up
With so many choices, sorting through various types, features, and specifications to choose the ideal pizza oven might be more challenging than necessary.
Here at Stone & Heat, our experts are happy to help you choose the perfect pizza oven for your outdoor build. Please don't hesitate to reach out with any questions you have!