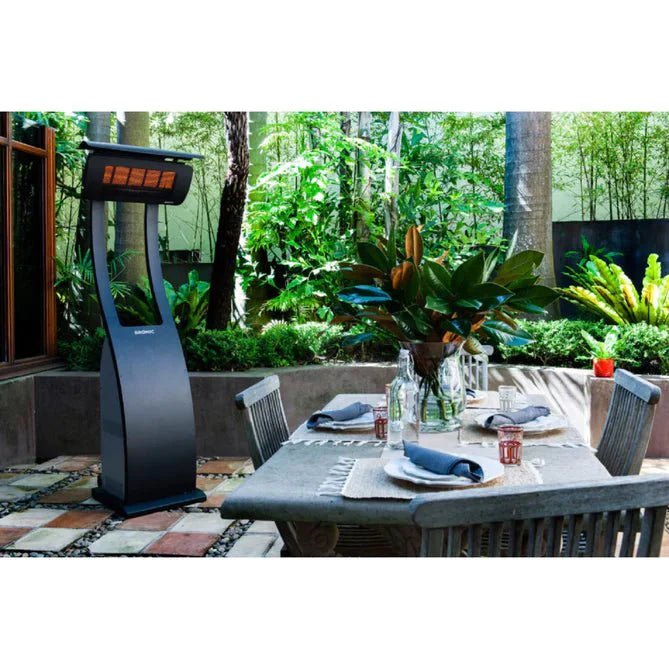 Electric vs. Gas vs. Propane Patio Heaters: Which Is Best for Your Patio? (Updated May 2023)
The popularity of outdoor patio heaters is rapidly growing in residential areas. Previously, they were mainly seen in restaurants, but now they are becoming a more common sight in homes. The reason? Patio heaters offer great value in the colder months. For a more comfortable and enjoyable outdoor experience, an outdoor patio heater keeps you cozy and allows you to extend your backyard time. 

Well, but as you begin your search for the perfect patio heater, with so many options available―it can be challenging to decide which one will work best for your needs. However, with the right information, you'll be basking in warmth in no time.
Primarily, you will need to consider the power source type of heater. The most common patio heaters are Electric Heaters, Natural Gas Heaters, and Propane-powered Heaters. Each fuel type has its own unique benefits and drawbacks, so it's important to weigh them carefully to determine which is the best fit for you. 
Wondering how they differ and which one you should pick? To help you out with that, at Stone & Heat, we have prepared this guide for you so that you can get a better idea about all three patio heaters and choose one that suits your needs. Let's get to it!
Electric Heaters
Powered by electricity, these patio heaters are eco-friendly and emit no emissions while heating the area efficiently. So, in outdoor spaces with insufficient ventilation, adding an electric heater is a great solution. As long as you have access to an electrical source, these heaters are a safe and convenient way to address your outdoor heating needs.
Typically, they use infrared technology to produce heat, and they can be controlled by a switch or a remote. From tabletop to freestanding to wall-mounted, these heaters come in various styles.
However, electric heaters tend to have lower heating capacity compared to gas or propane patio heaters, but this is not necessarily a disadvantage. They are the ideal option if you only need to heat a small space and prioritize safety.
Pros
Safe to handle and maintain

Easy to use with a simple plug-and-go setup

Suitable for use in enclosed areas
Cons
Long-term costs can be high

Need close proximity to an electric outlet

Strongly reliant on electrical power sources, so vulnerable to blackouts
Gas Patio Heaters
If you have an existing natural gas line at home, natural gas heaters are a fantastic option for providing warm and cozy outdoor spaces. 
Known for their quiet operation and cost-effectiveness, they deliver fast and efficient heat for covered patios, decks, and gathering areas. They're perfect for hosting large events, outdoor dinners, and simply enjoying the great Outdoors in the cooler months.
Moreover, the style and design of gas patio heaters are vast, so you can pick one that suits your style and complements the décor of your Patio. 
Pros
Lowest operational costs

Provides enough heat for a large area

Delivers a higher heat output than other outdoor heaters

No need to refill fuel tanks due to the constant supply of gas
Cons
Not recessed able

Requires professional installation 

For safety reasons, it must be placed in a well-ventilated area.
Propane Patio Heaters
If you prefer portability along with comfort―Propane Patio Heaters are for you. No need for a gas line connection; simply connect to a removable propane tank as needed - and enjoy their warmth. Also, you can use these heaters to warm a specific area on your Patio since they generate substantial heat levels. 
These heaters come in two main styles: standing, great for any size outdoor area and easy to move, and tabletop, perfect for heating smaller dining or seating areas.

They have a straightforward design with a large base to house the LPG tank, making them a popular choice among patio owners.
Pros
Simple to assemble and transport

Provide 360-degree heating 
Cons
Require ventilation

Usually, more expensive upfront cost

Powered by fuel, which may run out shortly
Which One to Choose?
Well, choosing the one either - electric, gas, or propane - totally depends on your needs. To make the best decision, consider your requirements and the conditions in your outdoor space. Regardless of which option you pick, it is essential to choose a heater that aligns with your budget and enhances your outdoor comfort experience.

In summary, 
Gas patio heaters are the most economical option among the three and are the best choice for heating larger areas. 

Electric heaters are your best bet if safety is your primary concern and you only need to heat a small space.

Propane patio heaters are ideal for those seeking a portable option, but they tend to be the most expensive compared to gas and electric patio heaters.
Best Patio Heaters
Our go-to patio heaters are the Bromic Patio Heaters. Whatever your needs are, Bromic has the right patio heater option for you. Renowned for its Smart-Heat technology, stylish designs, and high-quality construction, Bromic Heating has been a leading player in the outdoor living industry since 2007. Their heaters are frequently the preferred choice of resorts, restaurants, and homeowners globally.
Here are some of Bromic's top patio heater options for you:
Bromic Platinum Smart-Heat Gas


This Bromic gas patio heater offers impressive functionality to enhance your outdoor comfort experience. One of its standout features is the wind resistance of up to 11mph, making it ideal for use even on windy days. Additionally, the heaters can be either wall or ceiling-mounted, offering versatility in placement. 
There are two series options available in this unit, the 500 series, which can heat an area of approximately 200 ft², and the 300 series, which can heat an area of roughly 120 ft². Moreover, this unit comes attached to a rotating bracket that allows for directional heating, making it even more flexible in how it can be used. What's more? All Platinum Smart-Heat Gas units can be wired to a smart control system and come with the added convenience of automatic re-ignition.
Bromic Tungsten Smart-Heat Gas



Depending on the location, this Bromic Tungsten Smart-Heat Gas unit can be either wall-mounted or ceiling-mounted. There are also two series options available in this unit, the 500 series, which can heat around 200 ft², and the 300 series, which can heat about 120 ft². 

Moreover, featuring a rotating bracket, the unit provides warmth where it is needed. It is also wind-resistant and able to withstand winds up to 7mph. In addition, the Bromic Tungsten Smart-Heat Gas unit can be connected to a smart control system and features automatic re-ignition for added convenience.
Bromic Tungsten Smart-Heat Electric



Perfect for those who need a customizable heating solution for their outdoor space, this Smart electric heater from Bromic is a convenient outdoor heating option. It can be easily mounted on a wall, ceiling, pole, or even recessed, making it suitable for various outdoor environments. With efficient directional heating, the unit provides spot heating where it is needed the most. Moreover, the bracket on this unit offers 60 degrees of motion from top to bottom, allowing for precise control of the heating direction.
Shop Tungsten Smart-Heat Electric
Whether you settle for an electric patio heater or a gas patio heater, contact the experts at Stone & Heat. We provide a variety of high-quality, reliable, and energy-efficient heaters to ensure year-round comfort!